Welcome to our Knowledge Base
Pump LC110S does not connect
Applies to
LC110S pump connected to Clarity
Summary
Pump does not connect, 'cannot establish communication with LC110S.'
Cause
Connection problems can have several different causes:
Pump issue: pump not on, wrong port setting in pump service menu, baud rate, IP address
Config issue in Clarity: wrong port selected, IP address not correct, serial number not entered, RS232/LAN selection
Cable issue: wrong cable used, no cable connected
Diagnosis & remedy
1. Enter the pump service menu via left-right-left method and check device settings.
Close the Clarity software, and on the LC110S pump click the left button shortly, the cursor should jump to the upper line.
Press the right horizontal arrow key for approx. 2 seconds until the "interface" appears
Click left cursor to put the cursor on the upper line
with up/down button scroll through service menu and select the correct settings.
Click start/stop to exit
2. In Clarity main menu click the config button and select the correct pump, port and settings.
Open the pump menu, click on the "…" button
the software selector opens and displays all devices
select the correct device and close the windows.
See also service documents page for document 250_7020_01 – Troubleshooting ALEXYS LAN communication.
3. Make sure original cables are used.
Via "left – right (2sec) – left" enter the service menu to check/change connection settings. See also a short movie.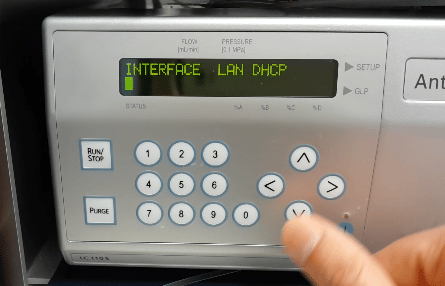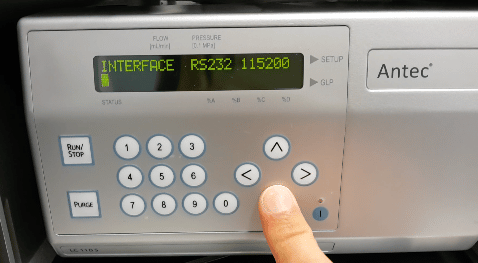 This screen shot shows where to check the Clarity settings for pump connection: