Electrochemical Detector for HPLC
Most sensitive electrochemical detector
Compatible with any HPLC system
Temperature stabilized cell/column compartment
ADF (advance digital filter) to improve S/N ratio
Different flow cells for optimal performance
​The DECADE Elite is the perfect electrochemical detector for your "third-party" HPLC system such as Thermo Fisher Scientific, Agilent, and Shimadzu. Have a look at our list of available software drivers (below) for full control and integration. For all other Chromatographic Data Software without an Antec ECD driver, we supply a universal ADC cable for data acquisition. The DECADE Elite is also the perfect replacement for your old ESA Coulochem II & III detector. We will transfer your method without problems and improve your sensitivity!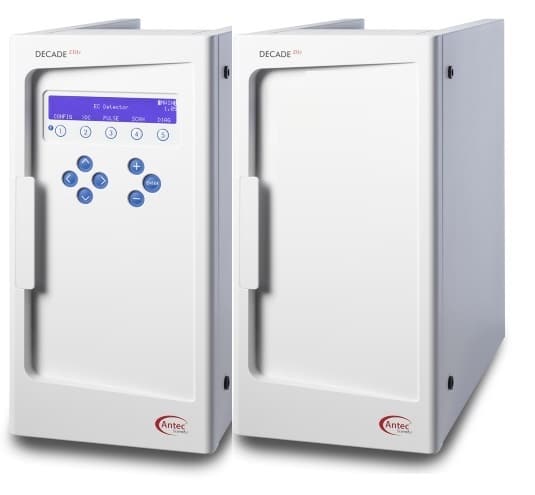 In the DECADE Elite the column and the flow cell are both held at a very accurate and stable temperature. Stable working conditions are a prerequisite for trace analysis and detection sensitivity. In addition, the DECADE Elite has ADF (advanced digital filter) which has been specially developed for ECD to improve signal-to-noise ratio up to a factor 200.
The DECADE Elite electrochemical detector is ready to work with any HPLC and UHPLC system on the market. With a 'high frequency' data rate, it can handle the fast eluting peaks often encountered in UHPLC. It is compatible with capillary and nano-LC as well when coupled with Antec's proprietary small volume SenCell™. The DECADE Elite with its dedicated flow cells is by far the most sensitive electrochemical detector by today's standards.
The DECADE Lite has the same performance as the DECADE Elite. It has the same temperature stability and the superior ADF. However, it has control for one flow cell and it has a DC measurement mode only. The instrument has no keyboard or display, therefore it is operated by PC control software (free). The DECADE Lite is compatible with all Antec flow cells.
The DECADE Elite and Lite can be controlled by the following CDS software drivers:
DECADE Lite has no keyboard or display, it comes with Dialogue Elite free version for instrument control.