In proteomics and protein chemistry ROXY Reactors are mainly used for reduction of disulfide bridges for the assignment of disulfide bonds in biopharmaceuticals, and for adduct formation such as drug-protein binding.
In pharma, ROXY Reactors are mainly used for synthesis, and oxidative metabolism studies. Drug and xenobiotic metabolites are formed instantaneously in the electrochemical cell, mimicking the enzymatic biotransformation of the Cytochrome P450 reactions that usually take place in the liver (Phase I reaction). Hereby, Electrochemistry becomes a truly biomimetic tool for enzymatic REDOX reactions.
For more details: see also our technology page.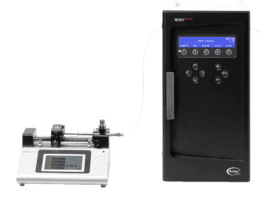 Electrochemical Reactors for MS and Synthesis
Lipidomics, Lipid-Oxidation
Proteomics