High Sensitivity Flow Cell for UHPLC/ECD
Adjustable Spacer Technology (AST)
No spacers or gaskets
Fast stabilization
The SenCell™ is a new generation electrochemical flow cell specifically designed for highest sensitivity. The tool free assembly and the continuously adjustable working volume guarantee ease of use and fast  stabilization. The effective volume of the cell – area above electrode – is small and can be adjusted between roughly 0 and 300 nL. Multiple working and reference electrodes are available making the cell ideally suited for use in (U)HPLC with Electrochemical Detection (ECD).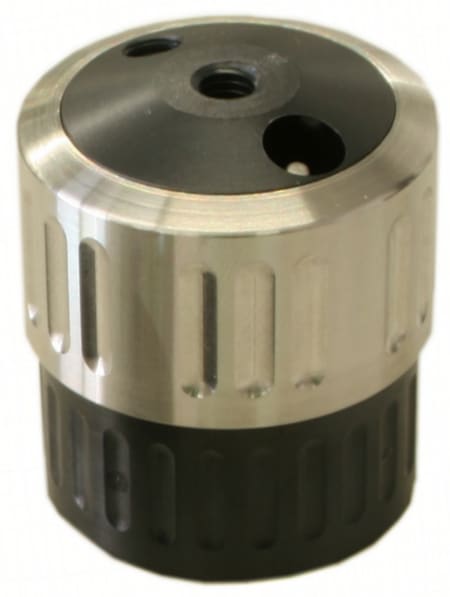 To realize the highest detection sensitivity, the cell design is based on the confined wall-jet principle. The liquid flows perpendicular to the electrode surface, thus minimizing the diffusion layer. A three-electrode configuration is used consisting of working electrode (WE), reference electrode (REF) and auxiliary electrode (AUX). The AUX is kept at precisely the same potential as the reference electrode via a voltage clamp, compensating for any polarization effects that might occur at the electrodes. In addition, utmost care has been devoted to the quality and finishing of the electrode material so that the highest sensitivity with fast stabilization is achieved, making the cell ideally suited for ultra-trace analysis in (U)HPLC, micro- and capillary LC/ECD.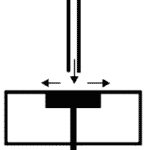 Wall-jet flow cell design. Solvent flow is perpendicular on the electrode surface.

Adjustable Spacer Technology – AST
The new design is using Adjustable Spacer Technology (AST), the use of polymeric gaskets (spacers) is now obsolete. The AST is a build-in micro-positioner for the working electrode relative to the inlet. To adjust the electrode position simply turn the micro-positioner mechanism in the cell with an adjustment key (included). By minimizing the electrode distance ('spacer'), more signal will be 'squeezed out'. For many applications this will improve the detection sensitivity.
Ease of use
The tool-free, easy-lock screw assembly allows for fast (dis-)assembly. Furthermore, the AST guarantees for highest sensitivity (S/N) and fast stabilization.
Adapter-kit for use with Coulochem II and III
Boost the sensitivity of your existing Coulochem detector (ESA) by making use of Antec's SenCell. For easy installation an adapter-kit is available consisting of a Faraday cage (pn 250.4000) and Coulochem cell cable 250.0133 (II) or 250.0138 (III).
Adjustment from position 2 to 1: turn counterclockwise with the key.
Adjustment of the SenCell from position 3 to 0.5 results in a 2.5-fold increase in signal. Patented design: US Patent 2014/0102916 A1
The SenCell is available with 3 different color coded reference electrodes that can be easily exchanged to fit any application. The traditional salt bridge (Ag/AgCl) is blue. The more user-friendly ISAAC (In Situ Ag/AgCl) is green. The maintenance free, high pH inert HyREF is black.