High conversion efficiency cell
The µ-PrepCell™ is a perfect workhorse to perform electrochemical reactions with high conversion efficiencies at flow rates up to 200 µL/min. Two versions are available: the µ-PrepCell 2.0 is the best choice for oxidative metabolism and degradation studies. The µ-PrepCell SS is a dedicated cell for efficient disulfide bond reduction in peptides and proteins.
Oxidations: u-PrepCell 2.0
Robust cell for reproducible oxidations
Fast generation of drug metabolites and degradants
Excellent correlation with metabolic & degradation pathway
For oxidative reactions the µ-PrepCell 2.0  is the cell of choice providing the highest selectivity and high yields. Different working electrodes are available such as Glassy Carbon (GC), Boron Doped Diamond (BDD), gold and platinum. The large working potential of up to 5V and by using BDD as working electrode is another benefit of the cell. It allows generating .OH radicals, a most powerful oxidizing agent and redox mediator. The cell can be disassembled for easy cleaning or exchange of a working electrode, making the µ-PrepCell 2.0 the ideal workhorse for oxidative reactions.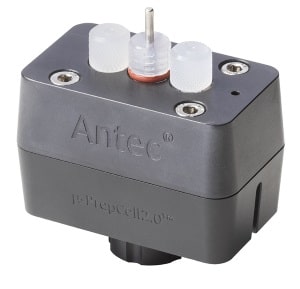 Reductions: u-PrepCell SS
Efficient reduction of S-S bonds in proteins
Long term stability and reproducibility
Reagent free, no interfering DTT, TCEP
Automated workflow for sequencing and S-S bond assignment
The new µ-PrepCell SS is the cell of choice for the reduction of disulfide bonds in peptides/proteins including monoclonal antibodies (mAbs). The on-line electrochemical reduction is a real green approach.  Unlike the chemical reduction no expensive enzymes are being used, and also no harsh reagents such as DTT or TECP that often interfere with the LC-MS analysis. Superior characterization has been achieved of proteins in top-down and bottom-up proteomics, including hydrogen-deuterium exchange coupled to MS (HDX-MS).