ALEXYS Polyphenols Analyzer
Binary gradient HPLC
Robust & reproducible Analysis
SenCell for best sensitivity
Flavonoids and flavanoids are naturally occurring antioxidants belonging to the phytopolyphenols. Resveratrol, quercetin, and other polyphenolic flavonoids have been reported to be cancer preventive agents and are thought to have therapeutic importance in cardiovascular disease. These polyphenolic substances are found in wine, green tea, chocolate, cocoa and several other food products.
The ALEXYS Polyphenols Analyzer is an integrated system solution for the analysis of resveratrol, epicatechin, quercetin and other polyphenols in wine and food products. The system uses a gradient LC system to optimise separation.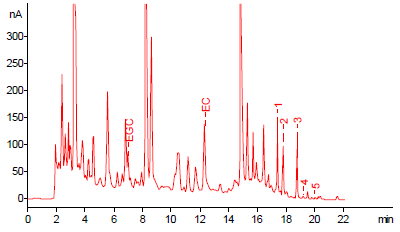 Example of 10X diluted Santa Digna Cabernet Sauvignon 2003, Chile. Peaks are: 1= Myricetin, 2= trans-Resveratrol, 3= Quercetin, 4= cis-Resveratrol, 5= Keampferol, EC= Epicatechin, EGC=epigallocatechin.