Welcome to our Knowledge Base
ISAAC shows light colored spots
Applies to
Flowcell with ISAAC reference electrode
Summary
After a period of use the ISAAC reference electrode changed color. Light spot(s) are visible.
Cause
This is normal wear, there is a chance that the Ag/AgCl coating disappears after prolonged use.
Diagnosis and Remedy
Polishing and coating of the ISAAC is advised. See flowcell user manual for details on ISAAC maintenance.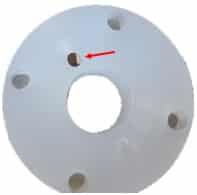 Fig. 1. Example of color change (white spots) on an ISAAC reference electrode.