Welcome to our Knowledge Base
Which reference electrode do you recommend?
Applies to
Electrochemical flow cells
Answer
Three reference electrodes are available:
salt bridge Ag/AgCl  –  traditional best known REF. Separate REF chamber, compatible with most conditions.
in situ Ag/AgCl (ISAAC)  –  convenient alternative, requires 2 mmol/L chloride ions in mobile phase.
HyREF reference electrode  –  robust, maintenance free, compatible with harsh conditions
For different application areas see flow cell manuals and Application notes.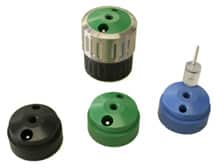 Fig. 1. SenCell with inlet blocks with HyREF (left), ISAAC (middle) and salt bridge (right).