Antec Scientific supports and disseminates the use of electrochemistry in Life Sciences through various programs and is involved in national and international collaborations within academia and industry. A user training can be conducted on-site or at Antec Scientific, The Netherlands. See documents in the below table for topics in a training program. It is possible to customize a program on request.
An overview of training sessions can be found on our website. Typically, we schedule them twice a year. The sessions take place in the headquarters at Antec Scientific, the Netherlands. Training program is 2 days for ROXY users, 3 days for ALEXYS users.
Click for scheduled training sessions this year.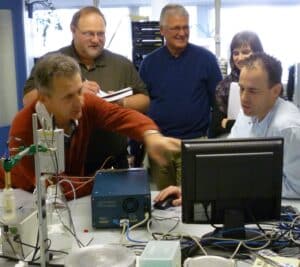 The deadline for registration is one month prior to the scheduled date of training. The training dates are tentative, as we only organize a training with enough registered participants. Please us send your inquiry or registration for a training.
We regularly have positions for internship programs for Master's Degrees, PhD or Post-Doctoral Fellowships. Feel free to contact us by email for more information.
Besides national collaborations such as The Netherlands Organization for Scientific Research (NWO/TTW) we regularly participate in international programs such as Horizon 2020 of the European Commission, i.e., Mass Spectrometry Training Network for Protein Lipid Adduct Analysis, for details on this project see the Cordis Europe website.