Welcome to our Knowledge Base
What cable do I need to connect my device to a PC?
Applies to
PC control for detector, autosampler and pump.
Answer
Serial cable connections:
To control a DECADE II, AS 100/110 or LC 110(S) with a PC a serial (RS232) cable is required. The DECADE II and AS 100/110 use a standard straight cable (9 pins, male/female). The LC 110(S) uses a 'crossed' serial cable (null modem, 9 pins female/female).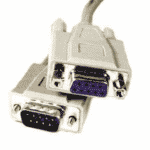 LAN cable connections
ALEXYS devices such as autosampler (AS110), pump (LC 110S, P6.1L), and detector (Elite, Lite, ROXY Exceed) are since several years usually connected with a 'normal' LAN cable via a switch box to a PC. When connecting the ECD device directly to the PC (no switchbox) a special 'crossed' LAN cable is used that is included in the detector cable kit. It is a black cable with red connectors (pn 250.0170, 177.0170, 178.0170, or 179.0170).